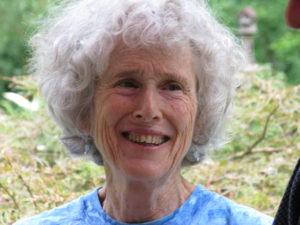 Creating dwelling places, meditative spaces, and each journey's traces is my passion. Music curls me into its flow, as does wilderness. Teaching art allows me to share this incredible journey with many people whose lives reverberate in heightened resonance with their interior wilderness. Painting carries the research of perceptions and inquiry through myriad dialogues. This enhancement of vitality occurs as uncertainty and intrigue lead me into process of formation. Random strokes, dabs of playful or passionate pigment surprise the image into being. As artist I become a vehicle, tapping somatic intuition as the image grows. The process evolves over months of painting, creating a heavily textured color world that shows traces of its maturation. Evocation of place, season, and mood through color, movement and texture is what I attempt.
Creating dwelling places is my passion, on canvas, in the classroom, in my organic garden, in field and woods collecting herbs and mushrooms; these are the easy delightful connections. Homemaking as wife, mother, daughter and grandmother is central to all.
Creating dwelling places has taken me to places; In front of a bulldozer to protect the forest; to community building and land trust work. My friend Ernest Sommerfeld once wrote of the safety of lilacs' fragrance at old cellar doors. The painting and painter grow from ground of our being in an earthy abundance of fulsome visceral well being. Our work is as the song of birds, beasts, which sing for joy in spring or signal danger in another voice. Empathy is at the core. Heightened awareness is the gift. Immersion within color worlds is joy! Dwelling is our birthright.
Jean Forsberg